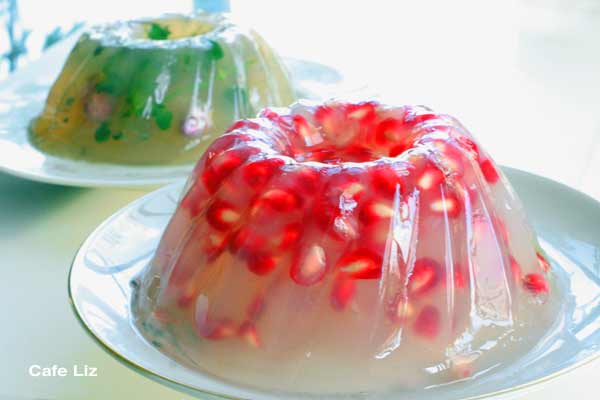 Rosh Hashanah starts this Friday, and I'm hosting. Festive holiday meal! And I get to cook it all! Yay! (Well, aside from the dishes my guests are bringing.)
My excitement could easily lead to way too much food, if I weren't limited by a combination of time and resources. Needless to say, I've been spending the week dreaming about what I'm going to make. And, doing trial runs of potential desserts.
In all honesty, jello isn't my favorite dessert — there are a lot of things I'd prefer to eat, starting with well-made pastries, followed by cookies, ice cream …. well, you get the idea. But jello is pretty. It presents well. And there'll be other desserts on the table, too.
Inspired by the beautiful jello shots at Luxirare, I came up with a few festive flavors. You could pretty much make this out of anything drinkable that suits your fancy.
The first one I tried was lime juice with pomegranate seeds, because I'm excited that lime! is! in! season! (I'm stockpiling) and because pomegranates are one of the symbols of the holiday.
My other jello was rosewater/zuta levana, which wound up having quite an unusual, rosy menthol flavor. Warning: The addition of zuta levana makes this suit adventurous tastebuds only. Dried rosebuds gave an attractive, though expensive touch (40 shekels for 100 grams … eek. Fortunately, 20-30 grams gives you a nice handful).
I used agar agar, a vegetarian, seaweed-based gelling agent, to solidify my jello (remember, gelatin is made of animal bones, and strict vegetarians won't eat it. Like Eitan). Unlike gelatin, it gels at room temperature, which is pretty cool.
A few more things before we get into the recipe, since this is probably my last post before Rosh Hashanah. I'm serving a dairy meal, centered around a variation of this fabulous blue cheese lasagna, from Barilla's Web site. Mine will contain figs, one of the traditional seven species (pomegranates, grapes, dates, wheat and olives will also be appearing on the table … not sure I'll work barley in, though). We'll be having chestnut gnocchi, courtesy of Tala, and apple pie. Gil has a juicer, so he's making fresh juice. I might serve pomegranate seeds with whipped cream (see gratuitous photo). And more dishes yet to be announced …
Happy new year, all.
Each ingredient list makes enough for a 1-cup mold. I used mini-bundt pans. Shaped ice cube trays could also give cute results.
LIME WITH POMEGRANATE SEEDS
For a 1-cup mold:
1.5 tablespoon agar agar powder
1.5 tablespoons powdered sugar (or about 2 teaspoons granulated sugar)
3/4 cup water (plus a bit extra, if the mold isn't full)
3 tablespoons pomegranate seeds (about 1/4 pomegranate)
3 tablespoons lime juice (about 1 1/2 limes)
Variation #1: Pomegranate juice instead of water and lime juice
ROSEWATER WITH ZUTA LEVANA (WHITE SAVORY)
For a 1-cup mold:
1.5 tablespoons agar agar powder
1.5 teaspoons powdered sugar (or about 2 teaspoons granulated sugar)
1 cup water
2 sprigs zuta levana (white savory)
2 tablespoons rosewater
5-6 dried rosebuds (for decoration)
Variation #1: 3 tablespoons pomegranate seeds instead of zuta levana and rosebuds
Variation #2: No zuta levana (if you can't get it), and only rosebuds
OTHER IDEAS
Your favorite white wine
One part red wine, one part lemon drink
Fresh passion fruit, water and sugar
Any other juice of your choosing
PREPARATION
Boil the agar agar with the sugar and the water for about 5 minutes, or following the instructions on the agar agar packaging.
Rosewater variation: If you're using zuta levana, crush it in the base of the mold. Add the rosewater and the rosebuds, which need to absorb water so that they don't float.
Lime variation: Pour the lime juice into the mold. Add 1 tablespoon of the pomegranate seeds.
Pour the agar agar mixture into the mold, mixing with the ingredients already there. Let it sit until it has a soft, jelly-like consistency — it will solidify at room temperature, but you can put it in the fridge to speed things up. Remember — you don't want it to solidify quite yet.
Once the jelly begins to become firm, add the solid items: The rest of the pomegranate seeds, if you're using them. Poke the rosebuds into place, so that they sit where you want them to (preferably close to the sides, so that they're visible).
Let the jello sit until completely firm, at room temperature or in the fridge (I like my jello cold, so one vote for fridge). Flip it out of the mold, onto an attractive serving plate.