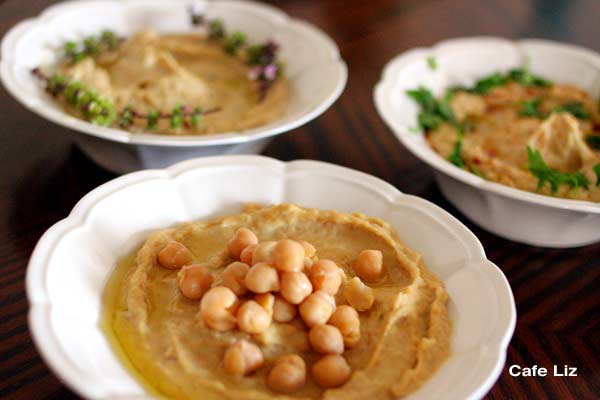 My friend Kazue is visiting from Japan, and her favorite food here just happens to be hummus. So I whipped up a batch or three. Hummus is quite possibly one of the simplest things to make, full of rich, creamy flavor — so long as you use fresh chickpeas. That canned stuff with the weird metallic aftertaste just isn't as good.
This requires a bit of advance planning, and a lot of passive cooking time. The chickpeas soak overnight, and then cook slowly on the stove. But don't worry, you don't have to watch them too closely. And then you're pretty much done — just drain the water, and whir the beans with some olive oil, tahini and salt. You'll have the richest hummus you've ever tasted, on par with any of the hummus restaurants around here.
And if you want that sour, slightly rancid taste that characterizes hummus purchased at the supermarket, in absurdly small containers? Don't worry, just leave it in the fridge for a week or two.
With that I should add: This is best when eaten right away. Don't let it sit in the fridge for too long. Since I don't like eating too much bread, I have my hummus with vegetable sticks instead.
For about 2 cups fresh hummus:
1 cup dried chickpeas (makes a bit over 2 cups once soaked)
6 tablespoons (3/8 c) olive oil (I used cheap olive oil here)
4 tablespoons (1/4 c) tahini
1/2 t salt
Set the chickpeas to soak overnight, with enough water to let them more than double in size.
Dump off the soaking water, and put in a pot or a pressure cooker, covered in clean water. Cook for about 30 minutes in a pressure cooker or 1 1/2 hours in a regular pot.
Drain the chickpeas, measure out 2 cups and blend with the olive oil, tahini and salt.
Serve with a drizzle of olive oil and topped with some extra chickpeas as a garnish, and to add texture.
Now that you've mastered the basics, you can vary all or part of the batch:
SPICY GARLICKY HUMMUS
1 T lemon
2-4 crushed garlic cloves (depending how garlicky you want it)
pinch cumin
pinch hot paprika
Blend with the basic hummus in the recipe above. Garnish with sprinkles of cumin and paprika, and an extra drizzle of olive oil.
BASIL HUMMUS
Blend a few basil leaves with the basic hummus recipe, and add a few more as a garnish (I used basil flowers, since my basil insists on producing them, anyway).
POTENTIAL GARNISHES/TOPPINGS
A sprinkle of chopped parsley leaves, a sliced hard-boiled egg, dried sumac, zaatar, toasted pine nuts.