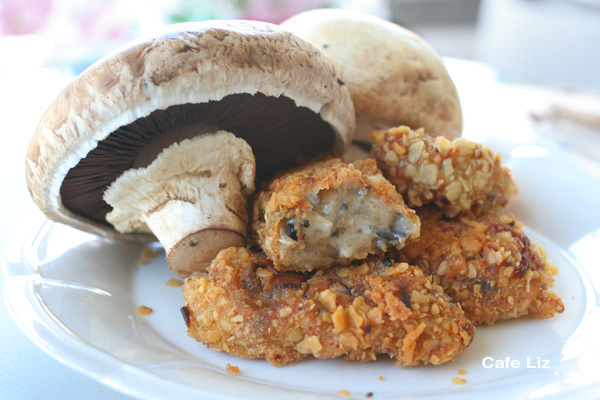 Pork-obsessed Spanish cuisine is not known for being kosher friendly, but classic croquettes can easily be made not only kosher and vegetarian, but kosher for Passover, to boot.
Croquettes are breaded dumplings filled with a bechamel cream, flavored with any number of things. I learned the technique from my friend Arturo, who threw himself a croquette birthday party with seven different kinds of dumplings — including ham, shrimp, ham and shrimp … and then for the vegetarians, mushroom and spinach. Arturo was nice enough to invite me over during his three (!!) days of preparations, so after watching seven batches of croquette fillings come off the flame, I felt confident enough to give it a go myself.
Traditionally, the bechamel filling is thickened with wheat flour and cornflour, but there's no reason not to use potato starch,which gives it a more gooey, melted cheese texture. And the dumplings are usually coated with bread crumbs, but finely crumbled matzo works here, too. As for the flavors, there is any number of delightful options that don't include pork, shrimp, or any other form of meat — I used mushrooms in this recipe, but spinach would also work, as would fresh herbs, sharp cheeses (blue cheese or cheddar, for instance) and maybe even roasted nuts. Arturo used pine nuts, raisins and eggplant. Kosher, non-vegetarian options include fish, such as salmon, tuna or codfish.
For those not making this for Passover, panko makes for a fabulously light, crunchy coating.
This recipe can be conveniently prepared over a number of days — the bechamel filling can sit in the fridge for a day or two, and once formed into dumplings and coated in potato starch, it can sit for another day or so.
A note about frying — having a thermometer makes things much easier, and takes away the guesswork. It lets you know when the oil is at the optimal temperature — 190 to 200 degrees Celsius, or 375 to 400 Fahrenheit — without you having to test a dumpling or two to see whether it burns/browns nicely/absorbs oil without cooking. Plus, more importantly, it lets you know whether the oil is getting too hot during the cooking, and saves you from burning things.
For about 16 croquettes:
For the bechemel filling:
100 grams onion
100 grams portobello mushrooms (±1-2)
100 grams button mushrooms
1/4 cup potato starch
1/2 teaspoon salt
1 1/2 cups milk
oil for frying
For the breading:
potato flour
1 egg
2-3 sheets matzo, or some matzo meal
Oil for deep frying
Grate the onion, and finely chop the mushrooms.
In a frying pan on medium heat, fry the onion in a bit of oil until golden. Add the mushrooms, and pan-fry until soft. Add the salt, and then the starch, mixing it into the vegetables. Everything should start getting dry and stiff very quickly. Pour in the milk, mixing to incorporate into the starch. This is a good time to deglaze — stir to get all the brown bits off the bottom of the pan.
Lower the heat, and keep stirring until things start to thicken — you want the filling to have the consistency of mashed potatoes, so that you'll be able to form it into dumplings.
Once the filling is thick, scrape it into a dish and set aside to cool. Then, put it into the fridge for several hours. You can even leave it for a day or two — that helps the flavors combine. Once cool, the filling should not move when you turn the dish onto its side.
To make the dumplings: Put the matzo into a food processor and grind into fine crumbs. Note that larger chunks will be noticeable in the coating, as in the photo, and will have a more solid (but still crunchy) texture. Or, just use matzo meal.
Prepare three bowls, one with potato starch, one with the egg (beaten) and one with the matzo crumbs/meal.
Scoop out spoonfuls of filling. They should come off the spoon as little logs. You can roll them into balls if you like. Dunk them in potato starch, then in egg and finally coat with matzo.
Fill a pot with half an inch (1.5 centimeters) of oil, enough to cover at least half a dumpling once the pot is full of croquettes. Put the oil on a flame, and heat to 190 to 200 degrees Celsius/375 to 400 Fahrenheit. Drop in the dumplings and fry until golden on one side, then flip.
Remove and sit on a paper towel to absorb the excess oil. Eat hot.