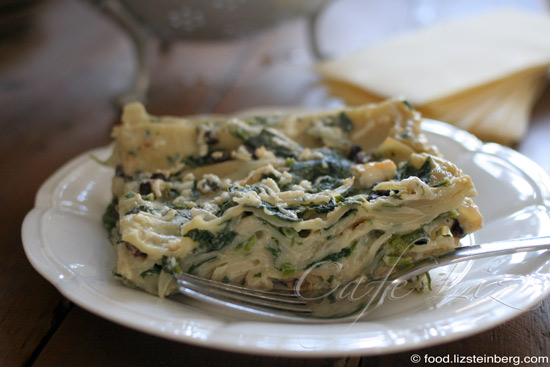 Sometimes I think that old adage about how to pick a barber should also apply to recipes. You know the story — there are two barbers in town, one with a good haircut and another with a bad one. The logic goes that you pick the one with the bad hair, since he got his haircut from the second barber, and vice versa.
Likewise for recipes — the best recipes might just have the worst photos. So you're standing there photographing whatever it is you made, it's sitting all nice and pretty on a plate, and how can you resist having a bite? You better get a gorgeous shot in the first take, because said dish isn't going to last more than that.
That's how I feel about this lasagna. I hadn't intended to post a recipe for lasagna, because it's a somewhat standard dish, but my husband really, really liked it. I mean really. I'm willing to consider the theory that he might have convinced me to blog about it because that means I had to make it again.
Anyway, the unique flavor comes from the combination of spinach and currants, a mix of savory and sweet. The technique is the same as in my blue-cheese fig lasagna, which was originally based on a recipe by Barilla (which meanwhile seems to have disappeared from their website).
Most of the lasagna disappeared the evening we made it. Yeah, our household may now contain three people, but one of them isn't exactly eating solid foods. So the following day, there were only two slices left for me to photograph. And photographing it made me, well, hungry. It's hard work.
In short, I'm glad I had some non-blurry shots, because after the first take, there wasn't any lasagna left to photograph.
For one 22-by-33 centimeter (9-by-13 inch) lasagna:

2 tablespoons butter or oil
1 medium to large onion, cut into thin slices
1/4 cup flour
1 liter (1 quart) milk
500-600 grams spinach, chopped and thick stems removed (one big box from the shook, about 1 1/4 pound)
1/4 cup currants (small raisins)
2 teaspoons salt
1/4 teaspoon ground black pepper
1/4 teaspoon nutmeg
pinch cardamom (±1/16 teaspoon)
pinch hot paprika (±1/16 teaspoon)
18 lasagna noodles (8 by 18 centimeters)
Optional: Cheese for topping (I used 30 grams of feta, but something like Parmesan or yellow cheese would also work fine)
Prep time: 15 minutes. Cook time: 20 minutes.
Preheat your oven to 220 degrees Celsius/430 Fahrenheit. (Or don't — you can put the lasagna into a cold oven, it'll just take longer to bake.)
Melt the butter in a large pot. Add the onions and cook on a medium flame until translucent. Add the flour and mix — the flour should absorb the butter and stick to the onions.
Slowly add the milk while stirring, letting it absorb into the flour so that no clumps form.
Add the spinach. Once the sauce begins to boil and the spinach has wilted (lost its volume), turn off the flame and stir in the spices and currants.
Assemble the lasagna by ladling some of the sauce into the bottom of your baking dish. Align three lasagna noodles across the bottom of the dish — they should fit very well next to each other. Top with more sauce and repeat with the remaining noodles. This should create six layers.
Once the noodles have all been arranged into layers, pour whatever sauce remains on top. Grate some cheese on top of the lasagna to finish — this isn't necessary, but it creates a more attractive topping.
Bake for 20 minutes at 220 degrees Celsius/430 Fahrenheit in your preheated oven (or for 30+ in an oven that was not heated) until the noodles are cooked through and soft when poked with a fork or toothpick, and the top is browned to your liking. Remove from the oven and let cool a bit, so that the lasagna holds its form when sliced.