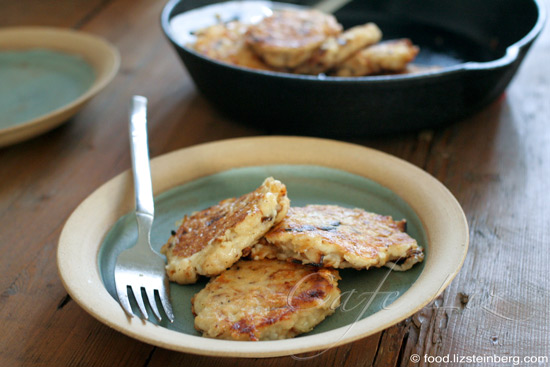 Bimuelos are a highly personal affair for anyone who makes them.
One February afternoon last year, I walked into the Pensos' borekas shop at the Levinsky Street spice market. "By the way, do you make bimuelos for Passover?" I asked Moshe Penso as he took filo dough out of the freezer.
They did, of course.
Bimuelos are a Turkish Passover staple, and I've been eating them all my life. It's my favorite holiday food, and maybe just one of my favorite foods all together. Our version consists of fluffy, soft balls of matzo meal and egg, saturated with honey and sugar and doused in heavy cream.
This Passover specialty came over from Turkey at the start of the last century with my great-grandmother Rose Behar. Rose was a girl of 14 when she left Constantinople, shortly after her mother died. One of the few things she brought on that long trip was her mother's bimuelo pan. The pan, which has seven indentations for forming round dumplings, continues to serve my mother to this day, coming out of the cupboard once a year.
Growing up, I didn't know anyone else who made bimuelos for Passover. Nowadays, as Jewish communities disperse around the world and move far from their roots, that seems like a common issue — ever since I wrote about my family's bimuelo recipe three years ago, that post has been one of my more popular, drawing dozens of personal accounts of a variety of family recipes.
Now, even, after asking around, I still don't know anyone who makes them quite like we do — ultimately, the word bimuelo simply means a fried ball of dough, and there are many variations. Moshe Penso invited me back to his shop later to speak with his wife Jenny, who is responsible for the Passover cooking. Her version of bimuelos produces soft, savory clouds with crispy exteriors, and are quite possibly more similar to what many other Turkish families make. A coworker of mine also makes something similar, too.
But the whole love affair — and believe me, once you hear what people go through to find the special pan, you'll realize what a love affair it is — is highly personal. None of us would ever think of deviating from the family recipe. As my coworker said, one year her sister made bimuelos with milk instead of water, and she couldn't eat it. Tradition reigns supreme, even if every family has its own tradition.
Jenny Penso makes her bimuelos with cheese except if she wants them to accompany a meat dish, in which case she leaves out the dairy products. While she fries hers into patties in a regular frying pan, other variations call for using an indented pan like mine in order to make dumplings. Alternately, you could omit the cheese (or not) and make the dish sweet by drizzling the finished bimuelos with a syrup of boiled sugar, water and lemon juice — also, more similar to my family's recipe, though still not the same.
Note: If you're looking for a bimuelo pan, sources and suggestions are listed on my original bimuelo post.
For about 10 savory cheese bimuelos:
2 sheets of matzo
1 egg
1/4 cup grated or chopped mozzarella
1/4 cup cottage cheese
1/4 teaspoon salt
oil for frying
Break the matzo into chunks and submerge in water in a bowl. Allow the matzo to fully absorb the water, and then squeeze out any remaining liquid.
Mix the mushy matzo with the egg, cheeses and salt. Heat a frying pan with some oil, and drop 2-3 tablespoons of batter at a time into the pan. Once the patties brown on one side, flip to cook on the other side.
These are best served fresh.