This batter yields a soft, mildly banana-flavored waffle, good enough to eat without syrup. I found sweet, ripe bananas at the shook, which were perfect (for waffles as well as any other baked good).
Making the batter with one banana will give you a subtle banana flavor, which Eitan liked. I prefer my flavors a little stronger, which means two bananas. In writing up the recipe, I compromised on 1 1/2 bananas, but of course the exact quantity is up to you. Taste the batter before you bake it and see if it's to your liking.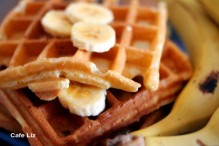 For 12-14 waffles:
1/2 cup butter
1 1/2 bananas (you can use the remaining half as a garnish)
2 eggs
2 tablespoons amaretto
1 teaspoon vanilla extract
2 tablespoons sugar
1/2 cup buttermilk
1 cup milk
2 cups flour
One 50-gram packet baking powder (1 teaspoon)
Melt the butter. Mash in the banana, and whip in the sugar, amaretto, vanilla and eggs. Add the buttermilk. Alternate adding the dry ingredients (flour and baking powder) and the milk.
Scoop 1/3 cup of batter into each waffle-shaped well in your waffle iron (mine has two 12-centimeter wells). Cook until golden. Repeat for all the batter.