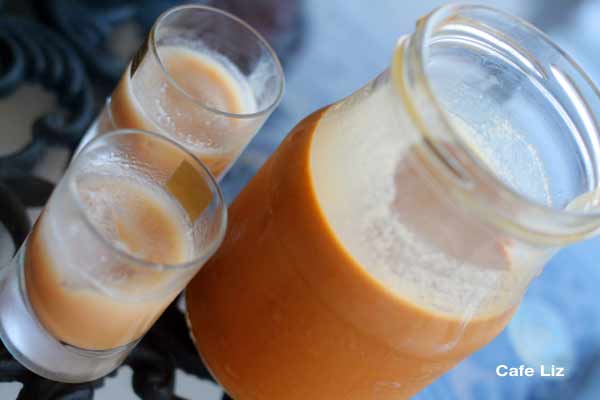 I first encountered dulce de leche liquor when I was around 20, on a trip to Buenos Aires. Always one to travel light, I went with only a small backpack, which made my mother all the more amused when I returned home, having managed to stuff five bottles of wine and two bottles of dulce de leche liquor into that little bag. (Ah, the good old days, when you could still bring liquid onto flights). Shortly after, she "confiscated" one of the dulce de leche bottles, ostensibly because I was underage. What can I say? My mom likes my taste in liquor. I think she still has some left.
That was years ago. I finished my bottle, and never saw dulce de liquor again — until last month, when I found myself at the Jaffa Market with Eitan's sister-in-law. Yaakov Lavie of Efrat had set up a stand for his award-winning liquors, and was offering tastes. Hoping not to spend money, I turned him down — I knew that once I tasted it, I wouldn't be able to resist buying a bottle. But one thing led to another, and I found myself with half a liter of dulce de leche liquor for a very reasonable 50 shekels.
The liquor was nothing short of wonderful, and I should have asked Lavie for a percentage of sales, because I quickly had half a dozen friends wanting their own bottles. The catch? In theory his liquors are sold at chocolate shops around the Tel Aviv, but in practice, you can't find them anywhere. Except for the Jaffa Market. Which is in the Jaffa port. Only on Fridays. And it's one hot half-hour bike ride at this time of year.
What to do? I decided to make my own. It turns out to be not hard at all — the three ingredients in his liquor are dulce de leche, alcohol and an emulsifier. The three ingredients in my liquor are dulce de leche, vanilla vodka and cream. While the purchased bottle sits on my shelf in the living room, my hommemade version is in the fridge, in order not to risk the cream spoiling. It has a good shelf life nonetheless.
The friends' review? My version was just as good, despite tasting slightly more alcoholic.
For a small jar:
175 grams dulce de leche
75 grams vodka (I used vanilla vodka)
75 grams cream (I used 15% fat)
Measure ingredients by weight into a clean jar (you can swish some alcohol in it to sterilize it). Mix well and chill.
Store in the fridge. Some dairy-based liquors don't have to be refrigerated, but better safe than sorry.
Serving suggestion: Serve with ice.