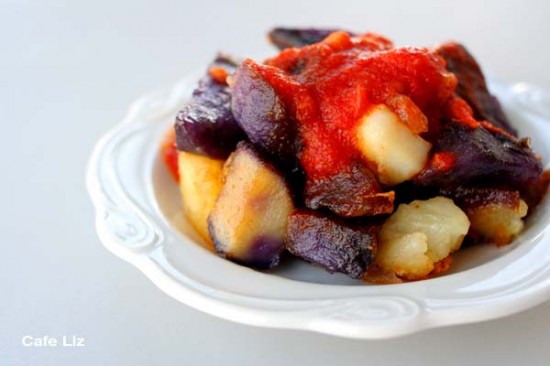 I fondly remember my time in Madrid, which was marked by many a visit to various tapas bars, frequently for the ubiquitous patatas bravas — gently crispy potatoes in a hot tomato sauce. In fact, I liked the dish so much that I still have a bottle of salsa brava that I brought back from a trip more years ago than I'd like to admit. The brand is "Uncle William," a subsidiary of Heinz. Authentic? I think not.
Lo and behold, like many ethnic comfort foods, patatas bravas are not hard to make yourself. I found a simple description on a Spanish blog, Directo al Palador (in Spanish), which explains that while this dish can be found all over Spain, the most authentic version is in Madrid, where they forgo the mayonnaise. The discussion that follows is about how the dish is served in Mallorca, Valencia, etc. It's interesting to observe these regional variations in cuisines, where a region is often less than a 2-hour trip for the busy traveler. But how convenient when authenticity is also better for you.
Perhaps not surprisingly, my homemade patatas bravas rivaled anything I'd ever had in a Spanish bar, quite likely because most bars don't actually make their own sauce. Or maybe they were better simply because your average Madrid bar is so far away from my Tel Aviv apartment.
I added some color to my version with vitelotte potatoes, which add a slightly sweet contrast to your regular spud. I also used fresh tomatoes (not canned), since they're beginning to come into season.
For 2-6 servings (depending on whether this is a meal or a small tapas portion)
400 g red-skinned potatoes
400 g vitelotte potatoes
500 g red, ripe tomatoes
3 garlic cloves
1 T sweet paprika
3/4 t hot paprika (or to taste)
1 t salt
1 t white wine vinegar (or sherry vinegar, if you have some)
1/8 t black pepper
lots of olive oil for frying
To prepare the potatoes: Peel them if you'd like, keeping in mind that the vitelottes have a bright purple color right under the skin, so don't take off too much when you peel. Chop into irregular shapes, and put in a frying pan with a thick layer of olive oil on a medium-low frame. Stir occasionally. Once the potatoes are soft enough to eat, turn up the flame so that they brown for a minute or two, and then take off the fire.
To prepare the sauce: Peel the tomatoes by blanching them in boiling water, until the skin begins to peel back when you poke them with a fork or cracks on its own. Set them aside.
In a thick-bottomed pot, heat some olive oil on a medium flame, and add the crushed garlic. Once the garlic begins to brown, add the tomatoes: I do this by removing the skins with my hands, squeezing them to get off any remaining tomato flesh, and then tearing apart the tomatoes with my hands, removing the scar from the stem.
Stir, and let the tomatoes cook for a few minutes with the lid on the pot. This will make the tomatoes start to fall apart. Now you want the sauce to reduce, so remove the lid, and add the salt, paprika, hot paprika, vinegar and salt.
Cook, stirring occasionally to make sure nothing burns to the bottom, until the tomatoes have fallen apart completely and the sauce is as thick as you want it to be.
To serve, top each serving of potatoes with a scoop of tomato sauce. If you're not concerned about Madrileno authenticity (or calories), you can add a scoop of mayonnaise, too.