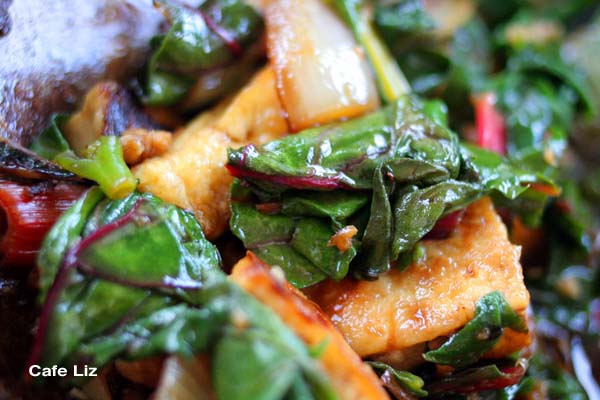 I like it when my tofu has a crunch. In this dish, I fried the tofu separately first, so that the outsides would be crispy while the insides stayed soft. The maple sugar, which I picked up in the U.S., added a nice roundness to the mixture of wine and soy sauce.
I also happened to have an attractive bunch of colored organic mangold, which I bought on a whim a while ago because it was well, colored — the veins and stems of the different leaves are alternately yellow, orange and red. The vibrant colors were still visible after stir-frying, fortunately.
You don't need to use colored mangold, though. In fact, I mixed mangold and spinach, and you could use either one or the other, or any other vegetable of your choosing.
For two servings:
About 250 grams tofu
1 onion, chopped
Big handful of fresh mangold leaves
Big handful of fresh spinach leaves
4-6 crushed garlic cloves
1-2 T soy sauce
1-2 T mirin
1-2 t maple sugar
oil for frying
Heat a neutral-flavored oil in a large wok. Slice the tofu into sticks, and slide them down the side of the wok. Let the tofu begin to brown — don't stir constantly, or the tofu won't get crunchy. Shift the tofu once the bottoms are browned — the tofu sticks might start sticking to each other, so separate them — and turn to let the other sides brown.
Add the onion, chopped, and a minute later, the crushed garlic, as well as any thick stems from the mangold or spinach.
Once these vegetables are fragrant, add the chopped leaves, and then the mirin, soy and maple sugar (you can mix these final three ingredients together first, but I didn't bother).
Stir-fry for another minute until the leaves have wilted, shut the flame and eat immediately, preferably with rice.