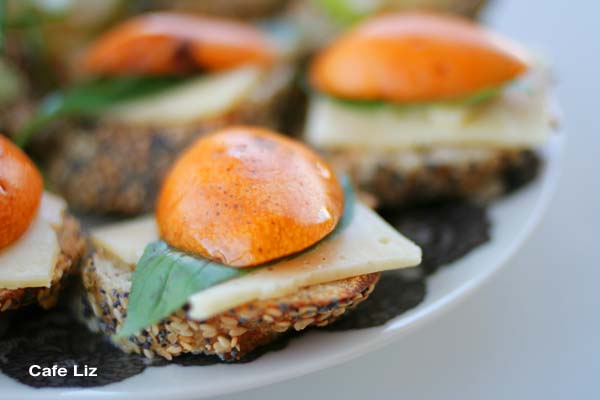 Quick to put together and fun to eat, these toasts take advantage of the onset of loquat season. I picked up a whole bucket of loquats at the Carmel Market for about 3 shekels a kilo this weekend. Admittedly, they were somewhat bruised looking, hence the price, but that means they're super-ripe and sweet. Anyway, they actually go very well with cheese and basil.
I made the toast from diagonally-sliced whole wheat breadsticks from the bakery at the Carmelit end of the market. This is the first time I found the breadsticks there, and they're very nice, with a crunchy wheat bran coating and a light hint of nigella (a.k.a. black cumin a.k.a. ketzah). You could pretty much use any kind of bread though.
I sliced the loquats lengthwise, around the pits, and got four slices out of each fruit. I ate the leftover bits at the top and bottom.
More of my loquat recipes.
Cheesewise, I used alternately gouda and a smoked mozzarella that we got in Hungary. I'm not sure whether you can get the latter here in Israel.
For each toast you'll need:
1 toast/cracker/slice of toasted roll
1 slice of loquat
1 slice of cheese (gouda, smoked mozzarella or another cheese of your choice)
1 basil leaf
olive oil
Drizzle a small bit of olive oil on the bread. Top with cheese, basil and loquat.