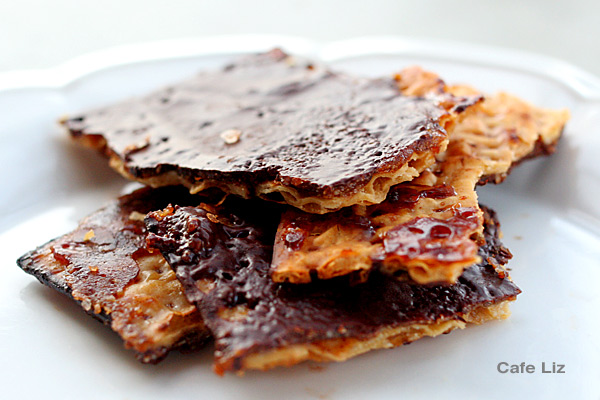 This chocolate-covered caramelized matzo is so good that I initially thought of publishing it as a way to finish up matzo after Passover — as in, matzo worth eating even when you don't have to. But why save the good stuff for last? Why not start the holiday out right?
This recipe comes from David Lebovitz, who clearly has a different audience than I do — he advises people to use a plain cracker if they can't get matzo. My readers, or so I presume, will be up to their ears in the damn stuff, and are looking for easy ways to make it irresistible.
And that's the other part of this recipe's charm: It really is irresistible. I'm embarrassed to say how much of it I ate last year, and how quickly it vanished.
I'd say that I halved the recipe in order to moderate my consumption, but really I did it because my oven must be smaller than David's and four sheets won't fit in there together.
For two sheets of matzo:
2 matzo sheets
1/2 cup butter
1/2 cup demarara sugar
1/4 t vanilla extract
1/2 cup dark chocolate
large-grained sea salt
Cook time: 20 minutes
Heat your oven to 175 Celsius (350 Fahrenheit). Line a baking pan with tinfoil, and then line the tinfoil with matzo (breaking it to fill the pan).
Heat the butter and sugar in a small saucepan and bring to a boil. Add the vanilla and spread over the matzo with a spatula.
Pop into the oven for 15 minutes so that the sugar melts and caramelizes. Keep an eye on it to make sure it's not burning.
Take out of the oven, lay the chocolate on top — they should soften and start melting — and spread to cover with a spatula. Sprinkle very lightly with sea salt.
Cool and eat.