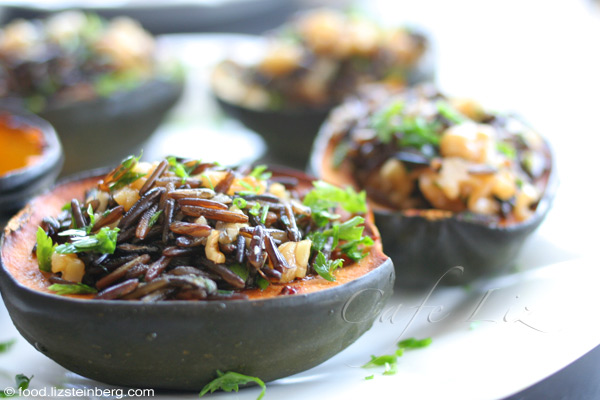 No people, this isn't a winter vegetable, at least not in Israel.
Indeed, its vibrant yellow flesh sings of summer. And what better way to serve a summer vegetable than stuffed with fresh herbs?
These little acorn squash — known as chestnut squash in Hebrew — are not among the usual offerings in Israel's markets. I found them in the Carmel Market peeking out from the back rows of Carmela's stand, among the spinach and celery. They're smaller than their American cousins, at somewhere between a tennis ball and a baseball, and this visible difference enables us to argue that they are therefore better — ours are sweeter and nuttier, of course.
I read a beautiful ode to our so-called chestnut squash, which described it as a unique Israeli variety, but other sources aren't so romantic, referring to them merely as American imports.
But unique hybrid or not, for us, the fruits of our fields will always taste better.
(For more: An account of a local CSA's squash crop, an an explanation as to why they're grown in summer; and an introduction to acorn squash in Hebrew.)
These quantities are for Israeli-sized acorn squash. If you're using American squash, you might need twice as much filling (or half the number of squash).
For eight squash halves:
4 chestnut squashes
2 teaspoons brown sugar
1/2 cup black wild rice
2 tablespoons olive oil
1/2 cup walnuts
1 tablespoon parsley
1 tablespoon chives
salt to taste — about 1/2 teaspoon
Prep time: 10 minutes. Cook time: 1 hour.
Preheat the oven or broiler to its maximum heat setting.
Put the wild rice in a pot with 1 cup water, cover, and simmer on a low flame for 1 hour.
Meanwhile, chop the squashes in half, slicing from the stem end to the tip. Clean out the seeds.
Put 1/4 teaspoon of brown sugar and 1/4 teaspoon water into each half, and place in the oven, cut side up. Let bake until soft, about 20 minutes. Remove from the oven once done.
Chop the walnuts, and finely chop the herbs. When the rice is done cooking, mix with the olive oil, the walnuts, the herbs and the salt.
Fill each squash half with the rice — I fit about two tablespoons into each one. Serve.