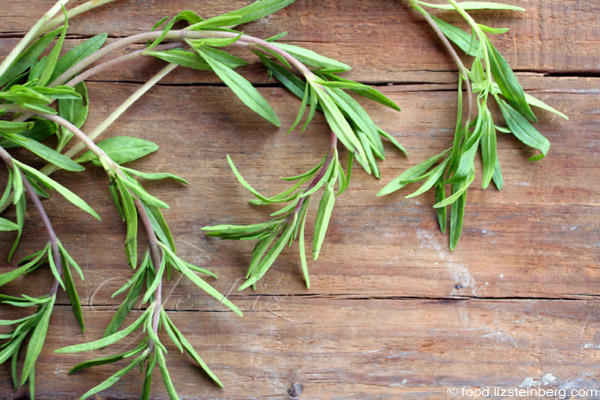 It's not so common that I find something new and surprising at the shook, which makes it all the more exciting when it does happen.
Poking my nose through one of the herb stands last week, I found a new, unfamiliar leaf. It looked like tarragon. I asked what it was.
"Zaatar," the seller told me.
But it doesn't look like zaatar, I responded.
"Taste it," he said.
So I did. Indeed, it had a zaatar-esque flavor, somewhere between oregano and zaatar but more delicate. I was intrigued.
The vendor told me this is Jerusalem zaatar, and that unlike regular zaatar (a.k.a. hyssop), it's available only when in season, in the spring.
Now, it's entirely possible that he made up the name Jerusalem zaatar, because I couldn't find any other references to it online. I did somehow figure out that it is a plant whose scientific name is Thymbra spicata, and that it has another name in Hebrew — Tsatranit mishulevet. (×¦×ª×¨× ×™×ª משולבת) However, this is one of the many plants occasionally referred to as zaatar, as explained in this wonderful article from Hebrew University, which cites a Mishnaic proverb to "take a bunch of hyssop, cedar wood and scarlet" — hyssop known only as hyssop, and not by an additional adjective such as Roman hyssop, Greek hyssop, desert hyssop or bluish hyssop.
The article notes that my so-called Jerusalem zaatar/hyssop is not often eaten, and after starting to cook with it, I could see why — more delicate than our common zaatar, it lost most of its flavor when I baked it.
Indeed, like revenge, Jerusalem hyssop is best served cold, topping salads, yogurts or all forms of cooked eggplant. Add it to dishes after you're done cooking, and its delicate flavor won't be destroyed. Buy it now — it's a steal at 3 shekels, if you can find it. But why not try? It's not a flavor you can find all the time, if ever.