Trendy western baked goods meet traditional local flavors in these rose-scented cupcakes – a delicate whiff of rose gives these cupcakes a dreamy, Middle Eastern flavor where you least expect it. Rose and pistachio, a combo frequently found in baklava, mesh seamlessly with the buttery crumb, and create an elegant dessert that's food-coloring free.
One of my biggest impediments to baking, aside from the sweltering heat, has been my lack of a stand mixer — many recipes call for beating the batter on X speed for Y number of minutes. But lo and behold, you can bake to good results even without this expensive appliance. It's just a matter of doing things the old-fashioned way, before people had electric mixers — by hand.
Sure, it's tiring, but it's absolutely feasible, and I did it. My cupcakes were lovely, too — light and fluffy and full of air. Given my lack of stand mixer, I've found this to be the next best option — no other household appliance I own is up to the task.
That said, an important part in making these cupcakes come out as good as possible is technique. It's not enough to mix the ingredients together, dump the batter into cupcake tins and bake until done — you need to let the ingredients warm up to room temperature before you begin, you need to beat the butter and sugar for the stated number of minutes until light and fluffy, you need to bake at the right temperature (and not at a higher one), and you need to let the cupcakes cool outside the cupcake tins once they're cool enough to handle (otherwise, they'll get soggy from condensation/steam). You also need to wait until the cupcakes are cool to frost them — otherwise, steam will be trapped under the icing and they'll get soggy. These are all integral parts of the recipe.
These cupcakes use rose essence, not rosewater. There's a huge difference — rose essence is much more concentrated. While rosewater is much more readily available, these ingredients are not interchangeable — if you were to use rosewater instead, you'd have to use a full cup in order to taste the rose flavor, and that quantity would more than alter the batter's texture.
So thus, rose essence. I bought mine from the spice shop where I buy my coffee, Atlas/David's at Levinsky 49, and it came in a tiny 8 milliliter vial. I used half of it to make these cupcakes, and a few drops to flavor the icing.
I topped my cupcakes with a buttercream frosting. While this kind of frosting is too sweet and heavy for many people, particularly non-Americans, I tried to use a non-overwhelming quantity of sugar, and I also put very little frosting on each cupcake — just enough to cover the tops. If buttercream is not to your tastes, feel free to use an alternative; I'm open to suggestions, since I haven't found something else that goes well with these cupcakes.
The decorations on these cupcakes are completely natural — pistachios make for a natural source of green sprinkles, and tea-grade rosebuds are a surprising, elegant touch. No food coloring needed.
As I've mentioned, I have a totally insane oven. In order to get it at 175 degrees Celsius, I set it at about 60 or 70 Celsius, and then opened the door occasionally when it started approaching 200. (Leaving a thermometer in your oven is quite useful, since while yours is probably not as crazy far off as mine, it may not be accurate, either.)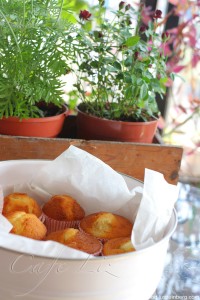 As a base for my recipe, I started with the vanilla cupcakes from More from Magnolia and altered the flavoring, the flour and the liquids (OK, most everything). While I may have changed a lot ingredient-wise, the book's instructions were quite useful. In general, the book has some great basic baking guidelines.
For 12 dome-topped cupcakes, or 18 flat cupcakes:
1/2 cup butter (100 grams)
1 cup granulated sugar
2 eggs
1 teaspoon rose essence
1 tablespoon baking powder (one packet)
1 1/2 cups flour
1/4 cup yogurt or buttermilk
3/4 cup milk
For icing (optional):
1/2 cup butter
1 cup powdered sugar
1 teaspoon vanilla, or 1/2 teaspoon rose essence
For decoration (optional):
dried tea-grade rosebuds, or dried rose petals
pistachios, shelled and ground
To make the cupcakes:
First, start with room-temperature ingredients. If your oven needs preheating, preheat it to 175 degrees Celsius (350 Fahrenheit).
Beat the butter until soft, smooth and creamy. Slowly add the sugar, and then beat until white and fluffy — about three minutes (or more, if your hand gets tired and you need to take breaks). Beat in eggs and incorporate thoroughly, until the batter is glossy and yellow.
Now start adding the liquids (rosewater, yogurt and milk) and the dry items (flour and baking powder). Add gradually, alternating dry and wet, and mix only until incorporated. The acidity from the rosewater may curdle the milk, but that's OK.
Scoop into cupcake-paper lined tins. I put a little less than 1/4 cup in each paper. Filling nearly to the top will give you a domed cupcake; filling only 2/3 will give you a flat cupcake.
Bake at 175 degrees Celsius (350 Fahrenheit) for about 20 minutes, until the cupcakes are baked through — a toothpick inserted into the center should come out dry.
Once the cupcakes are barely cool enough to touch (about 15 minutes), remove them from the tins. Then, leave them to cool entirely.
To make the frosting:
Let the butter warm up to room temperature. Beat until soft and creamy. Slowly mix in the powdered sugar, and beat until light and fluffy — about three minutes. Add the flavoring of your choice — rose essence or vanilla.
To dress the cupcakes:
Grind the pistachios (I used a coffee grinder). Once your cupcakes are cool, apply the icing with a knife. Top each cupcake with a dusting of ground pistachio and a rosebud.