This is another family recipe that simply means Passover to me. My mother learned this recipe from her Turkish grandmother and aunts growing up in Brooklyn. Apparently the word mina means pie in Judeo-Spanish (commonly known as Ladino), and the proper name for this recipe is actually mina de espinaka — spinach pie. My family seems to have shortened the name to mina, since we don't really make any other kinds of traditional Turkish pies.
Believe it or not, my mother's recipe calls for canned spinach — by the time my mother was a child, her grandmother had already switched to prepackaged convenience. I'm lucky enough to have an easy supply of fresh spinach, which I use instead — I get no strange flavors from the can or the freezer, and this is probably closer to how this recipe was made back in Turkey for generations (or so I'd like to believe).
Like all family recipes, this one was handed down to me without any actual measurements. So these are the quantities I use, and my preparation style.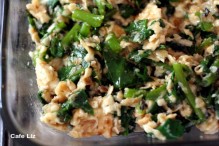 For one 9-by-13-inch pie:
700 grams fresh spinach (or canned or frozen)
6 sheets matzo
6 medium-sized eggs
150 grams grated Parmesan and/or Romano cheese, divided into 100 grams and 50 grams
1 teaspoon salt
1/2 teaspoon pepper
Oil
Roughly chop the spinach, put in a pot, and pour hot water on top, enough to make the spinach wilt. Don't cover the spinach in water.
Meanwhile, crumble the matzo into the pot with the spinach. Let the matzo absorb the water, and dump the mixture into a colander to drain out any extra fluids.
(If you're using canned spinach, put the crumbled matzo in a bowl and the spinach in a colander above the matzo, and let the liquids drain into the bowl. Once the matzo is fully saturated, drain out the extra liquid and mix the spinach with the soaked matzo.)
Mix the eggs, 100 grams cheese, salt and pepper with the spinach and matzo.
Oil a 9-by-13-inch baking dish, and spread the mixture into the dish. Sprinkle the remaining 50 grams of cheese on top. Drizzle oil on top of the cheese — I like using good olive oil here, even though the original recipe calls for merely a neutral cooking oil. The oil will make the top of the mina turn golden and crispy.
Bake at 180 degrees Celsius until set, about 25 minutes. The top layer should be a light golden brown.
(Photos: The ingredients, the mina mixture without the cheese topping, the mina with the cheese topping, and the mina right out of the oven.)